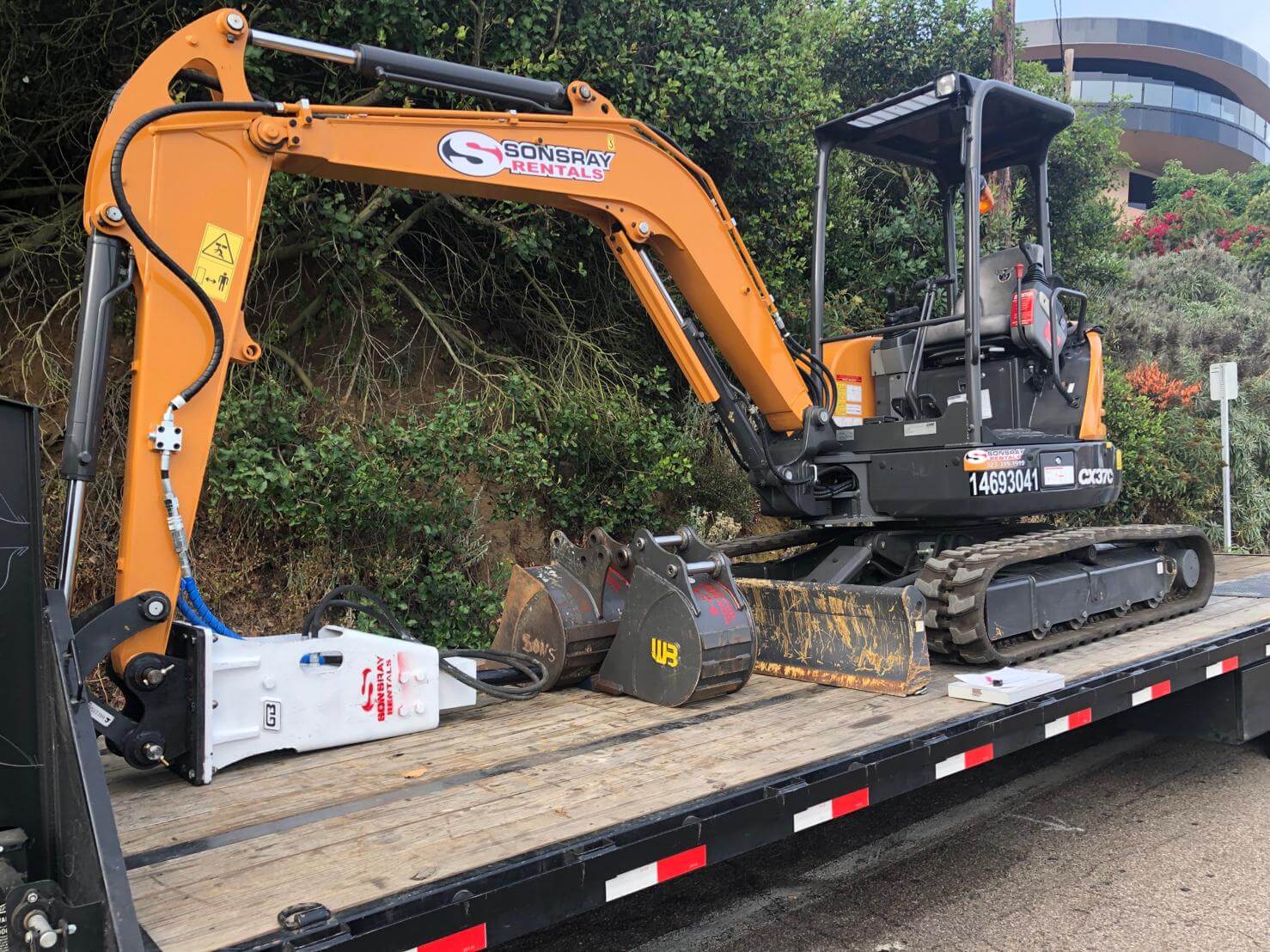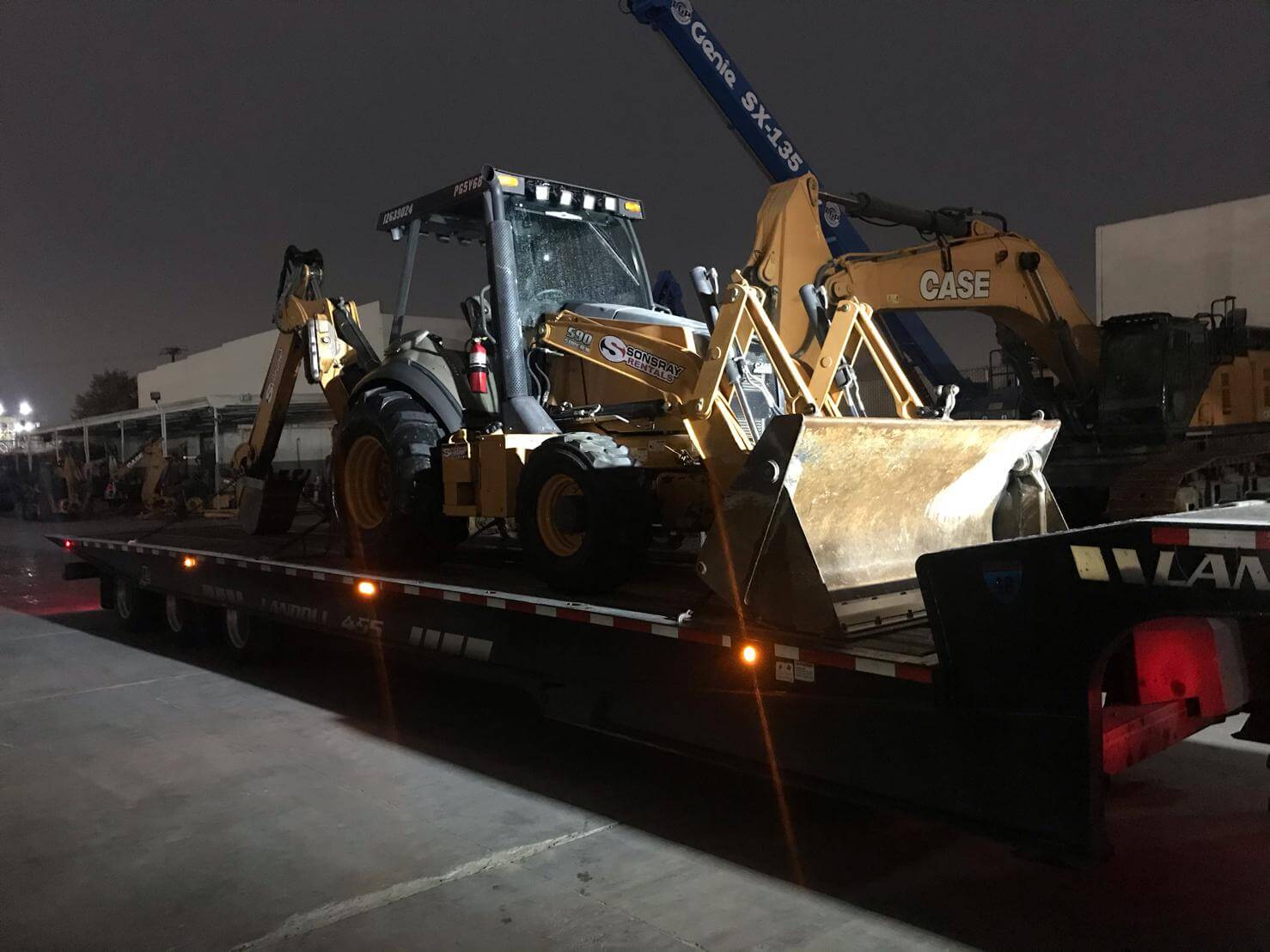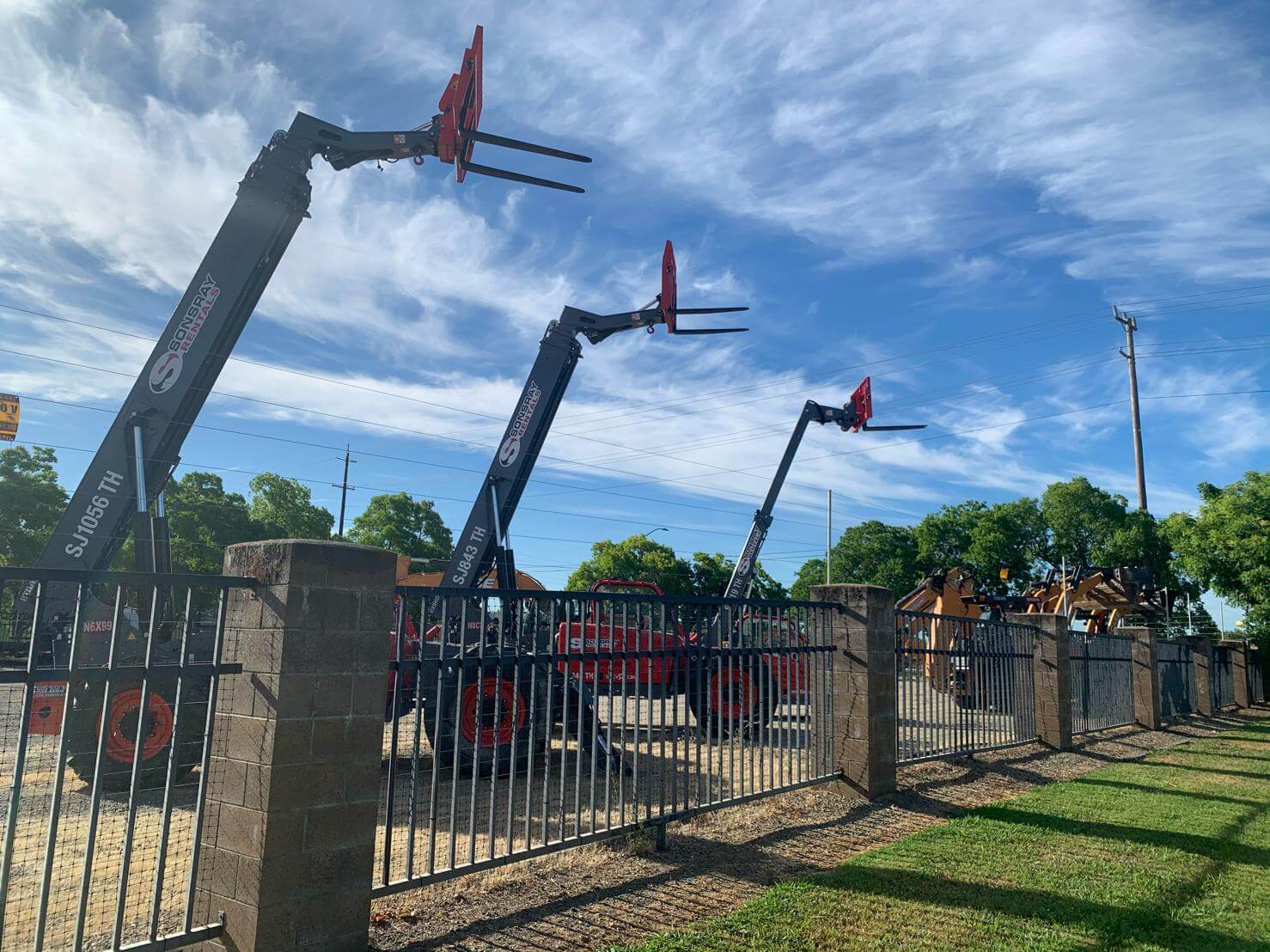 On the fence about deciding whether renting heavy equipment or buying heavy equipment is the right choice…Before you decide it is important to evaluate the pros and cons of each.  Owning your own backhoe rather than a backhoe rental may make sense if you know you will be operating it for many years to come.  However, there are some costs associated with owning construction equipment.  Below are some points to consider before you make that hefty purchasing decision.
1. Avoid the Initial Cost
Purchasing construction equipment is a steep expense.  Of course for some buying that Skid Steer makes more sense than acquiring a temporary skid steer for rent.  The reason can only be if you know your contractor business will be utilizing it time and time again.  For others, renting is a much easier financial investment.
2. Rental Construction Equipment is Proven on The Field
Stealing this from the Sonsray Rentals slogan, a heavy equipment rental house serving California and Washington (and coming soon to Oregon).  They live by their slogan, "Proven on The Field", which means the construction equipment they rent is broken in, up-to-date on maintenance and ready to work for you.  Buying new heavy equipment can take hours to fully break in.
3. Stop Paying for Construction Equipment When Not In Use
Just like any construction business, operators have their favorite or preferred machines they like to work with.  When you rent heavy equipment like a bulldozer, for example, you don't have to worry about your machine(s) sitting idle.  Let the rental company worry about finding other users.
4. Enjoy the latest technology with renting heavy equipment
A good construction equipment rentals company updates their fleet frequently to stock the newest models released to date.  The heavy equipment rentals industry is a competitive market, so for this reason, companies like, Sonsray Rentals, offer the latest and greatest with all the technology capabilities you need to help you complete your projects more efficiently.
5. Achieve Worry-Free Compliance
To stay in the heavy equipment rentals business, rental houses must ensure all their equipment is up-to-date and in compliance with emissions regulations.  No company would ever want the status of its compliance into question, so you can rest assured that all equipment from a heavy equipment rentals business meets emissions and other safety standards.
6. Avoid Maintenance Costs
Maintenance can be expensive for any type of construction machinery, even if it's a compact machine like a forklift.  Unexpected breakdowns cost even more.  When you rent heavy equipment, even if it's a forklift rental, all maintenance is conducted by the fleet owner.  They are responsible for making sure their equipment is running and maintained properly.  The best rental companies spend a significant amount on preventive maintenance and recruiting master certified technicians to repair and keep the machines operating smoothly.  For a construction business owner like yourself who opts for renting heavy equipment, you save yourself the money from any repairs, breakdowns, and staffing technicians.
7. Say Goodbye to Storage Fees
When you own your own construction machines you must have storage solutions.  Whether your machine is being operated daily or not in use, there's only so long that a construction vehicle can sit outdoors exposed to the elements.  When you have heavy equipment sitting idle, and you don't have the space to store the machine, construction business owners must resort to renting warehouse/storage space.  Renting construction machines only as you need them will save you the hassle of transporting machines back and forth to and from a jobsite, plus you won't have added monthly storage fees either.
8. Trim Transport Costs
Coordinating the transportation of your construction equipment from where it is parked to the job site can be a headache and cause downtime.  By renting heavy equipment, all you do is simply make 1 phone call.  The rental company handles all of the logistics of drop-off and pick-up; plus many of them calculate delivery into their rental price so it doesn't feel like an extra expense.  This is also important for a company who is based on the East Coast, but has a contract project on the West Coast, renting locally would save you money rather than transporting your heavy equipment across the US.
9. Project-Specific Rentals
Different contractors have their specialized business they prefer to focus on.  Some specialize in landscaping, others in residential construction, and others in commercial construction, etc.  Every now and then, you will find a new business opportunity; and rather than turning the business down, you will embrace this unchartered territory.  Growth is always a great thing, but rather than committing to purchasing new equipment solely for that specific project; a contractor may be better off to rent construction equipment to pursue this new opportunity, expand its horizons, and still remain profitable.
10. Have Some Wiggle Room
Purchasing new heavy equipment adds up quickly, and can put you in debt.  If you're not profitable from the get-go, you may simply be working to pay off your financed construction machines.  Getting too deep into debt could cost you other future opportunities, as it can stunt your growth.  By keeping your options open to renting heavy equipment rather than buying it, this will allow you to access available capital more freely and pursue further growth opportunities.
These are just 10 benefits to renting heavy equipment vs buying; it is definitely not a solution for everybody.  Obviously, if you need a construction machine in which you know you will be operating it daily, then buying may still be the better option.  Tune in later in July, for part 2 of this article, where we will share 10 additional benefits to renting heavy equipment.
Sonsray Rentals is a division and sister company of Sonsray Machinery specializing in offering rental equipment solutions for the construction industry.  With access to the dealer network, Sonsray Rentals leverages the factory trained, Master certified technicians to maintain their equipment rentals.
11) Tax Deductions
Construction Equipment Rental costs are a deductible expense while purchased equipment is taxed at a depreciated rate over its lifetime.  In some cases, rental equipment, such as forklift rentals for example, can be viewed as a project expense and the expense can be passed on to the customer.
12) Doesn't Affect the Balance Sheet
Here's one that will make your CFO happy.  Renting heavy equipment is often seen as a business expense and not a balance sheet liability.  Which means you preserve more money for borrowing power.
13) Speaking of borrowing power…
Thinking in terms of assets and liabilities, equipment debt and/or aging equipment could weaken a company's overall financial perception.  This makes it harder to obtain business loans from banks.  The less debt you have in your books, the stronger your borrowing power is for your business.
14)  Try Before You Buy 
Some rental companies, like Sonsray Rentals, have Rent-To-Own Programs that allow you to try it before you buy it, risk free.  If you decide you want to keep it, a portion of your construction equipment rental costs is applied toward the down payment.  If you decide you don't want to keep the machine, you may return it to the dealership without it affecting your credit.
15) Protect Yourself from Market Fluctuation
One moment the housing market is booming, other times it just sinks to all-time lows.  Especially in these days as we are fighting a world-wide pandemic, future days become unprecedented; and the number of jobs available are out of your control.  Renting heavy equipment provides a safeguard for your company from any economy downturns.  Rather than committing to owning equipment, construction equipment rentals provide a flexible option that is easier to manage when unexpected tough times arise.
16) Reduce Costly Wait Times
Every contractor owner can agree that lost production time on a job site is a waste of money, never-the-less the setback it causes on your deadline.  It's a bad day when you have to pay employees to wait around for a piece of equipment to arrive or a broken down machine. By renting heavy equipment, your request is on-demand.  The delivery and pick-up, for that skid steer for rent you need, is on a punctual basis when you need it, where you need it.
17) Stay Competitive
We understand how costly it is to refresh your fleet every few years.  Sometimes older machines are still working pretty powerfully, so why replace 'old rusty' if she can still dig dirt?  It's an ugly game out there with competition, and the bigger contractors usually have the newest and shiniest toys to play with.  Not a fan to admit this, but sometimes your customers want to know what type of equipment you will be using, and they underestimate smaller companies who use older machines.  One thing you can plan for is, rental companies usually have the most-up-to-date machines on their fleet.  You can rest assured that you can supplement your fleet with rented, crisp machines for a job site, like a 2020 backhoe rental, but also manage to bring your faithful older models as well.  Nothing wrong with maximizing the number of machines you need to complete your job.
18) Avoid the Long-Term Commitment
There are many costs associated with owning a piece of equipment over a long period of time.  Assuming the machine is not being abused, there are warranties that require record-keeping, preventive maintenance & routine service costs, physical damage insurance, interests if the machine is financed, emissions compliance, etc.  It is a big responsibility to own your own equipment, and certainly not for everyone.  Plus, when it's time to invest in new equipment the next thing you need to worry about is reselling it or trading it in, and only if your machine is in superb condition will you be able to get the most value out of it.
19) Eliminate Unnecessary Stress
Rental houses are in the business of renting heavy equipment, their reputation means everything, which means they must routinely maintain their machines to prevent them from breaking down on you.  Not only do they deliver when you ask them to, and pick up when you instruct them to, but all that hauling back and forth to storage is something that the rental company handles.  So to put it in simple terms, imagine having all the machinery needed to complete your job but without the hassle of maintenance, servicing, compliance issues, hauling, storage and coordinating, etc.  By renting heavy equipment you have machines at your job site by just making one phone call.
20) Flexible options with versatile machines and attachments
Having the option to rent provides much more flexibility rather than the expense of expanding your fleet.  Plus many machines have easy to connect attachments that you can rent as well.  CASE CE machines, in particular, are very versatile with their attachments.  You can rent 1 machine, like a skid steer for rent or a backhoe rental, with several attachments, and only use 1 machine for different functions.
There you have it we have wrapped up our 2-part series of 20 Benefits to Renting Heavy Equipment.  Obviously the benefits outlined in the articles are not for everyone.  The reality is it all depends on your long term vision, your business plan and lots of financial and logistical planning is required.  We still believe though an ideal solution is to own your own fleet but be flexible to construction equipment rentals as needed.  It's good to complete your construction projects in a timely manner and a safe cost effective plan in the long run.