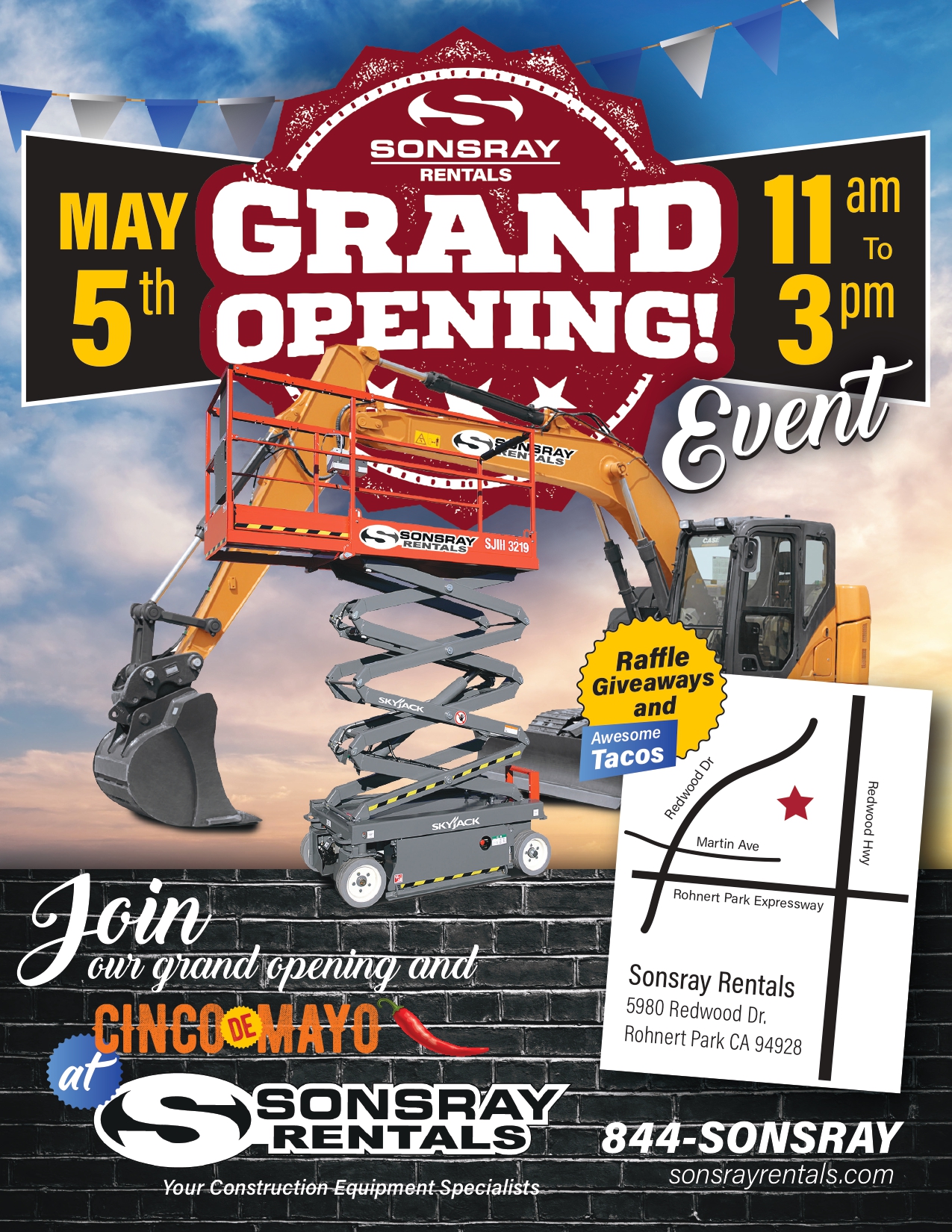 May 5th is the grand opening of our Sonsray Rentals – Machinery Rentals location in Sonoma County! Come celebrate Cinco De Mayo and the grand opening of our new location in Rohnert Park with special giveaways, raffles, and food. Come chat with our industry experts and start the aid in fulfilling your machinery rental needs. Our CASE experts and certified technicians are excited to show the Sonoma County community what Sonsray has to offer. From earth moving heavy  equipment rentals, aerial platform rentals, to a wide variety of attachments; here are the ways in which we can contribute to Sonoma.
Sonoma County History
Supplying the land with wine since 1858 and home to the oldest commercial winery in the state, Sonoma is one of California's original counties. While Napa has long been known as the state's most renowned wine region, Sonoma is the birthplace of California's wine industry. With more than 60,000 acres of vineyards, Sonoma is the most diverse premium wine grape growing region in the United States. There is of course much more to the region such as farm-to-table eateries, breweries, breathtaking views, and other alluring attractions. We are proud to have the opportunity to serve a community this illustrious.
What We Bring to the Table: Machinery Rentals
When seeking machinery rentals one should worry about things such as service, reliability, and machinery transport. Our team at Sonsray specializes in support and maintenance on every piece of equipment we provide. If you're in need of a compact and versatile piece of machinery, skid steers have universal compatibility with a multitude of front-end options. The capabilities a CASE skid steer has to offer are endless and only limited by the attachments you own. With the same universal coupler as a skid steer, investing in a backhoe is guaranteed raw power and adaptability for any terrain. Our industry leading CASE backhoe loaders are the ideal machine for any problem you may face out in the field. For farmers hauling things like large rocks, feed, or mounds of soil are daily tasks that require a machine with flexibility, a comfortable cab, and heavy carrying capacity. Wheel loaders are the simple yet effective answer that can lift almost anything you'd happened to come across while farming. Offering an extensive assortment of attachments, you can rely on us to develop a machinery rentals plan that fits your needs.
Sonsray Service
Sonsray Rentals was Founded in 2012 and is a part of the largest CASE CE distributor on the west coast. Stretching across multiple states we deliver parts, attachments, machinery, and a wide variety of ground engaging tools. Providing on-site service 24 hours a day, 7 days a week our staff are dedicated to attending to your needs, no matter the circumstance. From operation, maintenance and financing, we are with you every step of the process. Get high quality used equipment and the peace of mind you need, with our certified pre-owned machines. Field-proven and inspected by our CASE/Skyjack master certified technicians, we have the tools to help you grow as a business.
So make this outing count as a work trip and join in on the festivities going on over at Rohnert Park, May 5th, 2022.